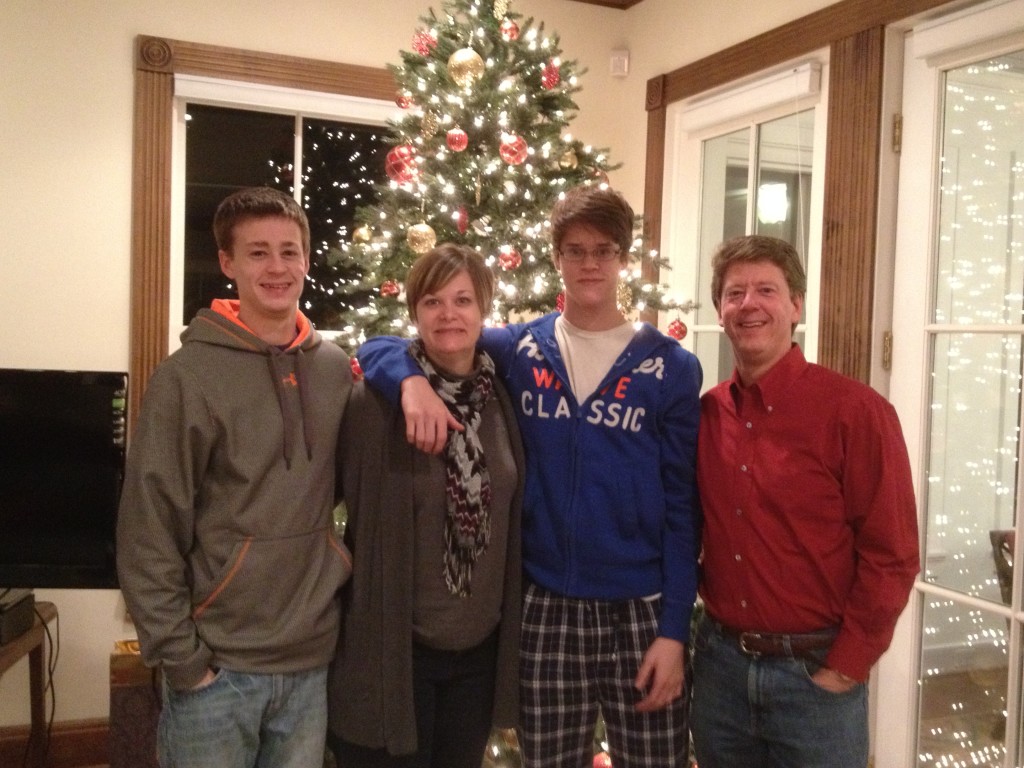 Written by:  Scott Cooper
To follow is the New Years Greeting we sent to family and friends!
It truly is hard to believe that in 2 days we begin a new year.  Suzy, Robert, David and I sincerely hope you and yours had a great year.  For our family, 2013 was a year of many changes, and challenges!  With our kids both being young adults now: Robert being a real estate professional and David entering into vocational school, a move to a new state (South Carolina), starting a new business (a farm) and seeking new employment and ways to serve, it really has been a transition year!  We are entering 2014 looking forward to all that God has in store for our family, not only for the coming year – but further into the future as well!
Our New Year's message last year shared a comment from a friend that expressed pessimism about the future.  This year, I hope to share some optimism, and why I am hopeful about the direction of our country, not because of our leaders, but because of average Americans engaging in the civic arena! 
I appreciate your indulgence, as I share a couple of the positive trends which I think are motivating as we move into 2014.  With the exception of the first, which is a personal request for you to consider doing, they are things in the civic arena which I am investing time in – but I share them primarily because they point to the reasons I have hope – via first-hand experience!
Third – average citizens, not career politicians, are entering into the arena – to challenge career politicians who have "led" our country to its current state.  Most who receive this were inspired in 2013 by Ted Cruz and Rand Paul (Freshman Senators) who are leading – not because of seniority (the way Washington works), but because they are leaders.  They have inspired others to put their businesses aside and invest their time, talent and treasure in an effort to help steer our nations ship away from the iceberg we are rapidly approaching. 
One such individual is Richard Cash, who is challenging Lindsey Graham in the South Carolina Republican Primary.  I personally have decided to invest 2014 with Richard's Campaign as its State Field Director.  First let me tell you why Lindsey Graham must be replaced:
Senator Graham was the only Republican on the Senate Judiciary Committee to vote for Supreme Court Justices Sonia Sotomayor and Elena Kagan.
Senator Graham is not pursuing The Rule of Law when it comes to Immigration Reform.  For this he is affectionately known as Senator Grahamnesty.
These two reasons alone are enough to return Senator Graham to South Carolina.
Richard Cash and his wife Marcia are parents to 8 children.  Richard has developed and runs two businesses, both for over a decade.  Prior to being an entrepreneur, he worked in Corporate America and prior to that served in the Pro-Life Movement for 7 years.  I would encourage you to learn more about him at www.RichardCashForSenate.com. 
I have chosen to invest my time in 2014 with Richard for four reasons. 
First, I have gotten to know Richard and his family.  I know he feels called to be in the arena, and I am confident he has the moral fiber required to stand against the pressures that will come his way in Washington – including the pressures that will come from his own party. 
Secondly, I believe Richard is the one who can defeat Lindsey Graham in a runoff – and that is critical.  There are currently four candidates challenging Senator Graham in the primary, which is a good thing, because South Carolina is a run off state.  If the conservative movement collectively focuses on why Senator Graham is NOT a conservative, we will hold him to less than 50 % of the vote, he WILL be defeated in a runoff.
Third, all good legislation currently goes to the Senate to die, and fourth, International Law typically gets passed in the Senate.  We must get more true conservatives in the U.S. Senate to stop these trends.
If you want to see conservatism brought back to Washington – Please consider helping Richard by donating to his campaign! Not only does Lindsey Graham have $ 7 Million in the bank, there is no doubt the establishment machine and the likes of Karl Rove will be doing everything they can to prevent a true conservative replace Lindsey Graham.
Fourth – The Convention of The States Project – This effort at the state level has tremendous momentum, and I believe is likely the last chance we have of reigning in the Federal Government. If you have not already reviewed their website – I strongly encourage you to do so, download the handbook, find out who your district or state leader is, and get involved!  Combined with the momentum Mark Levin has provided with his book "The Liberty Amendments,"  I believe there is real hope in this effort.  Again, the hope isn't in our current leadership in Washington – it is in We the People – who are getting engaged in the civic arena!
Each of these items give me hope.  I would encourage you to share this information with your friends, who just may need a little hope!  Positive things are taking place in the hinterlands of our country.  I firmly believe we have a long way to go before we see their impacts being felt in Washington – but ultimately we will!
In closing – YES – this was a New Year's greeting that went beyond just "the personal" and discussed national issues and some of the solutions that are underway.  There may be some who would prefer that it just remained personal and left the other stuff out. 
Well – for me, what is taking place in our country is personal.  I can't list all the ways that I have personally witnessed the devastating impact of over regulation and the elimination of liberty in our country.  I have witnessed it in the industries I have worked.  I have witnessed it with countless individuals and I have witnessed it in my own life.  This is not the country our grandparents grew up in.  Heck – it isn't the country I grew up in.  It is personal. 
Generally Christmas letters and notes this time of year are filled with notes about our families and kids – let us be honest – it is our time to brag a bit, while we catch up with old friends!  That is fitting – and good.  But honestly – it is for our kids that I share some of the positive things that are happening in the civic arena.  We are stewards of this country…..and I trust that most of you, like me – want to bequeath to them the liberty and freedom we were blessed with. 
In closing, I ask you to pray for our country.  More than anything, we need a spiritual awakening.  After praying, if you want to get engaged, but don't quite know how – please feel free to reach out to me, and I'd be happy to point you toward some excellent organizations that are doing honorable work.
May God bless you and your family in the coming year!