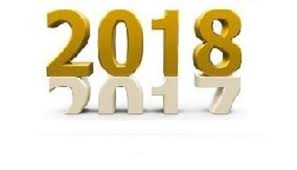 Closing the final "work day" of 2017 yesterday, I (Scott) was amazed at how quickly the year passed.  I spent time reflecting on what I have not accomplished.  In addition to thinking about what else I had hoped to accomplish, but didn't, I spent time reflecting on James 4:14 "you do not know what your life will be like tomorrow. You are just a vapor that appears for a little while and then vanishes away."  The entire chapter of James 4 (linked) is valuable when reflecting on time. Matthew 6:33, and the entire chapter of Matthew 6 (linked) is another gem when reflecting on the use of time and resources.
What are you reflecting on this New Year's Weekend?
In addition to thinking about the investment of 2017, I spent some time thinking critically about the last 5 years.  January 1, 2013 was the day I drove to South Carolina to begin a new life for my wife and me.  Suzy and David, our youngest son, planned to join me after David graduated High School in June 2013.  David was to spend a "brief season" with us, as he considered his future.
You may already know the work we have been engaged in on multiple fronts; Suzy in Dental Hygiene; Scott in agriculture, a weekly column at The Edgefield Advertiser, work with High Frontier, Managing a U.S. Senate Campaign, and serving in local county government.  Each of Scott's endeavors have required significant investment of time studying.  Each of these endeavors have made great strides.
This New Years, we, Suzy and I, want to share with you our recognition that God works through painful, generally unwanted circumstances.  Over the course of our first five years in South Carolina, we have come to acknowledge and adapt to the fact that our youngest son David will likely be with us, dependent upon us, our entire lives.  The diagnosis yet completely unclear, is related to the autism spectrum and mental disorder.  The bottom line is following high school he took a severe spiral downward, and after a multi-year roller coaster, we have adjusted to a life we hadn't planned.
We do not share this with you to seek pity.  Prayers yes, but not pity.  We share this with you for three reasons. 
First, frequently this time of year, everyone puts their best picture forward in Christmas Cards and letters.  We think that is fitting, because people genuinely want to hear how their friends have done the previous year, and this time of year is the natural time to provide an update.  But let's be honest – the painful parts of life are often left out.  And the reality is, far more people are struggling with painful parts of life than not, and our friends are either growing or withering as a result. 
Second, it is our belief and our faith, which we celebrate this time of year, which tells us these things are given to us, not to crush us, but to create in us the individuals God will use.  His ways and His plans are generally not ours.  Romans 8:28. 
We humbly acknowledge that finding the resilient spirit which looks for the purpose and chooses to "press-on" is not easy.  It requires support, which may come from places other than where you had hoped.  The above verses were provided as a potential lifeline for whatever you may be going through.  For Scott they were key to his personal resiliency, which is still a daily journey.
Third, researching what Scott now refers to as the plagues of the autism spectrum and mental disorders on our republic, we are profoundly grieved by the number of families which are facing similar and in many cases far more devastating circumstances.  The toll these scourges are ravaging on human life, marriages and families is on an epic scale.  My gut tells me every individual who reads this will know impacted lives.
In closing, sometimes people ask me (Scott), "why invest / waste time in civil governance?"  My reply is simple.  Because I value life, and because it's personal. 
As it relates to the subject matters above, there is far more I do not know, than what I do know; however, in my gut I know there are some key public policy and lifestyle choice factors driving the increases we are witnessing in the diseases I highlight above, and it's having a devastating impact on lives.  I would covet your prayers as I continue serve at the levels and in the circles of influence that have been opened to me, to help increase awareness and work with those seeking solutions, for our immediate family and beyond.
Many blessings to you and your family, as you prepare to enter a new year!  May it be a productive one!  If you have a minute, please make a comment to let us know how you and your family are doing!