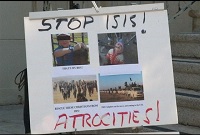 Aiken, SC -A group of concerned citizens in Aiken are calling on Americans and the government to help thousands of Iraqi refugees who have been captured, forced out of their homes and killed by terrorists.  The militant group is called the Islamic State in Iraq and Syria or ISIS and efforts to save those fighting for their lives are reaching from the steps of the Aiken Courthouse to the White House.
Click here to read rest of article, and video from WJBF – News Channel 6, Augusta, GA
This event was also covered in The Aiken Standard.