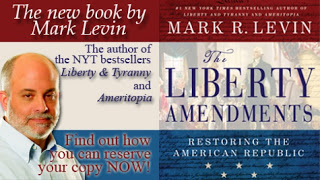 Shared by:  Scott Cooper
This book, TheLiberty Amendments, which comes out in a couple weeks will be required reading for all Conservative Americans – and then we must begin the work of building our STATE Legislatures.  Please take 30 Minutes to listen to Mark talk about it: 
Updated in the Fall of 2013:
Shortly after the release of Mark Levin's book, The Convention of The States (COS) launched their grassroots effort to help make the principles of Mark's book a reality.  I strongly believe this is our last hope of reigning in the Federal Government, and placing it back in it's constitutional limits.  I strongly urge every conservative to sign up and get engaged with COS.