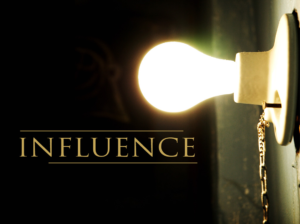 You have influence, very likely beyond what you imagine!
If you have studied the principles of six degrees of separation, you recognize that an individual's potential influence living in the 21st century has the potential of reaching an unprecedented level, unlike any other time in world history.
The question is, what will you use your influence for?  Positive things or negative things?  To build up others or to build up self?  To benefit the next generation, or to live for the moment?
The vast majority of people never fully develop their potential.  This is true with all our abilities, but it is especially true when it comes to influence.
I want you to be aware of a unique opportunity to learn how to increase your influence from some of the greatest minds and highest achievers alive today, with respect to leadership.  Whether your current role is:
That of a stay at home mom;

A father;

A facilitator of a small group study;

A Team Member / employee within an organization;

A Team Leader within an organization;

A C-Level Leader within an organization;

A Business Owner / CEO;
Everyone has influence, whether you are at the top (or at the bottom, as this list is displayed), or you are working at home developing future influencers, perhaps the role which has the greatest impact to influence the next generation, (at the top, as this list is displayed).
On Thursday August 10th and Friday August 11th I invite you to invest your time at The Global Leadership Summit being simulcast for the Greater CSRA at True North Church on Martintown Road, just south of I-20 in North Augusta.  This annual event has taken place for over 20 years and will be simulcast into over 600 venues' worldwide!
Through a series of events, which I may write about after the event, I have the privilege of attending the live event in Chicago, so if you participate – whether locally in the greater CSRA, or one of the other worldwide simulcast locations – I would greatly love to hear how it personally impacted you, your family, your leadership and your effort to increase your influence, which is really what leadership is all about!
For more details on this event in the CSRA region, please go to – http://truenorthchurch.com/events/global-leadership-summit/
To see this list of renown speakers, please go to – https://www.willowcreek.com/events/leadership/
Here's wishing you a blessed and productive week!