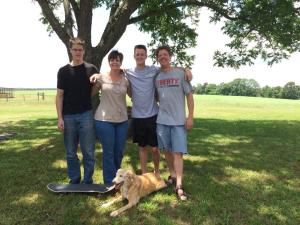 It is our prayer that you had a blessed time with family and friends this Christmas season.  The above picture shows that we are all still kickin' – and the bottom picture shows that our family continues to expand!  Yes – we are taking orders for #SaladBarBeef – which will be ready for market in 2017!
Even though we finished putting away all the Christmas decorations last night, the culmination of our Christmas celebration will really be on April 5th – Easter Sunday, when we celebrate the resurrection of Jesus Christ! 
Even at birth, Jesus knew he was born with a purpose – to live, to die and to be resurrected – with the sole purpose of saving a lost world, which was dying in its sin.  We are looking forward to the culmination of this Christmas celebration in April – when we celebrate the resurrection of Jesus Christ – for if there was no resurrection, the celebration of Jesus's birth would have little meaning!
In our last two New Year's Day greetings (2012 and 2013), I shared a blog written by Doug Phillips.  It is titled "Three of the Most Important Things You Can Do This Time of Year."  As I mentioned in last year's note and posting – I was concerned that Doug's blog might be taken down – and indeed it was – so I am thankful I gave him credit and posted it here.
Most of us will have a long weekend this weekend.  I know it is unusual for a Christmas Message / New Year's Message ask something of you – but this one does!
If you have not done it in the past, I would encourage you to read through Doug's blog (linked) – and take some time doing the things he suggests.  (Just recognize you need to change the year!)  We have some exciting times in our future – beginning in 2015 – and I believe his encouragement will help each of us move victoriously into our future!
May God bless you and your family as you prepare to enter 2015!
Scott and Suzy Cooper