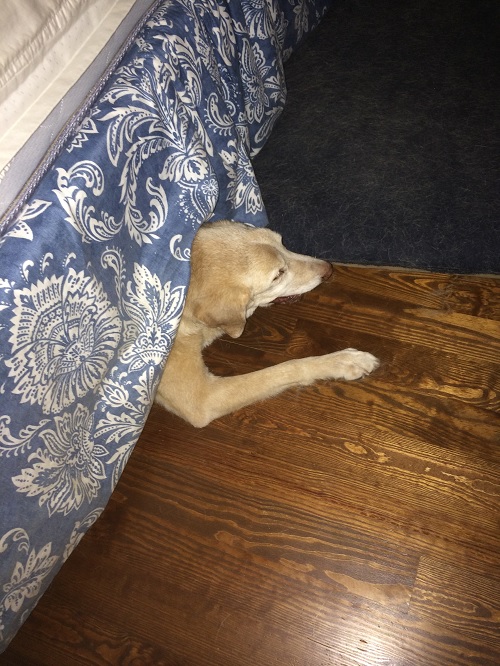 My dog autumn got stuck under the bed this morning. Fortunately I had not left yet, and I could hear her…..
When I first heard her, she was scrambling trying to get herself out. 
After a few minutes of scrambling she started whining and exhibiting traits of more intense scrambling. 
That was followed by barking and even more intense scrambling. 
She grew tired, and then just put her head down. 
When I came in and asked her how she got in that predicament, she sheepishly wouldn't even look me in the eye. I had to physically bend down and drag her out of the sad state of affairs she had put herself in. 
This is a great picture, in my opinion, of Political Correctness – what I believe to be the Trojan Horse of the 21st century – the tool our enemy – strict adherents to The Quran (and their current, but not permanent allies) are using very, very effectively. 
There are a few who are doing everything they can to wake society as a whole up to the reality that we are stuck in a very flawed state of political correctness (absence of proper worldview training – especially the Truth upon what made Western Civilization great).
The condition Autumn is in, in this picture, is exactly where our enemy wants us. So stuck in our sad state – that only our head and neck remains visible – so that the infidels head will be easily sliced off. 
It is my prayer that there is a generation of leaders currently enroute to positions of influence great enough that they will be able to bend down and drag us out of our stupor and into reality. 
We can't pray for them by name yet – as their names are yet unknown – but will you join me in praying for them anyway?